Kybella in Snoqualmie, WA
Symmetry is one of the keys to beauty. However, symmetry within our facial features can be difficult to achieve on our own. When it comes to altering our appearance as we age, achieving and maintaining that symmetrical appearance can be even more difficult. When people are asked what primarily about themselves keeps them from being in photos or family videos, more than half confess it's their facial features, specifically, their chin. A "double chin" can have the effect of making us look heavier, or older than we are, which can be detrimental to self-esteem.
At Ageless Aesthetics, Dr. Lisa McCoy offers some of the latest in non-surgical solutions to help her patients restore their facial symmetry. With Kybella® double chin removal treatment, Dr. McCoy is able to remove this submental fullness and help restore a slimmer neck silhouette.
What Is "Submental Fullness"?
More commonly known as the dreaded "double chin," submental fullness is a cosmetic concern common among both men and women. While the condition may not be a cause for medical concern, the development of a double chin can leave a lasting impression on your overall appearance and have a negative effect on your self-confidence and self-image. According to a recent survey done by the American Society for Dermatologic Surgery, around 67% of people said they are affected by having a double chin.
When extra skin is added below the chin, submental fullness can detract from a balanced facial profile, leaving an individual with features that make them look older or heavier than they are. Another issue people experience is that diet and exercise are ineffective at shrinking submental fat. Even with the most rigorous workout regimen, individuals can lose weight or be fit in other areas, yet the submental fullness remains. Certain factors such as genetics, aging, and weight gain can contribute to the development of a double chin, but nothing should keep you from having the beautifully contoured features you desire.
Double Chin Removal with Kybella®
Until recently, the only cosmetic options for removing a double chin were through a surgical neck lift or liposuction. While these are effective measures, the risks associated with surgery and a long-term recovery were often barriers that kept many patients from pursuing double chin removal.
For patients searching for a non-surgical way to remove submental fullness, Kybella® is the first ever FDA-approved, completely non-surgical option to contour and dramatically improve the appearance of submental fullness.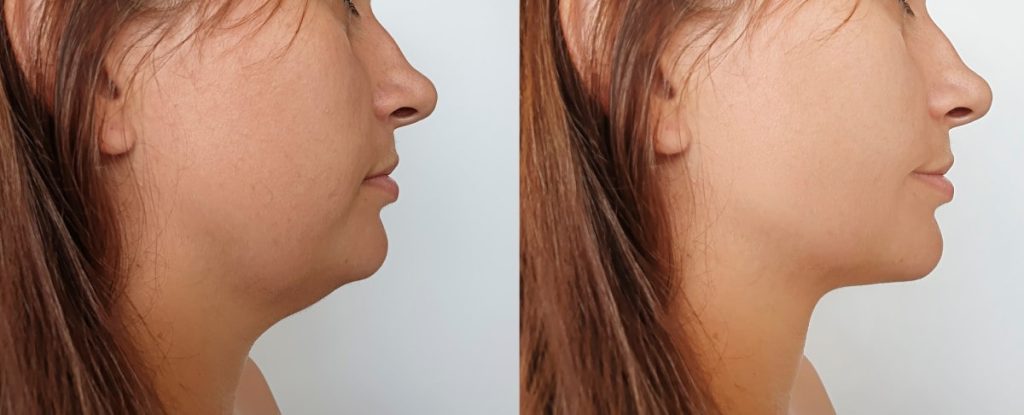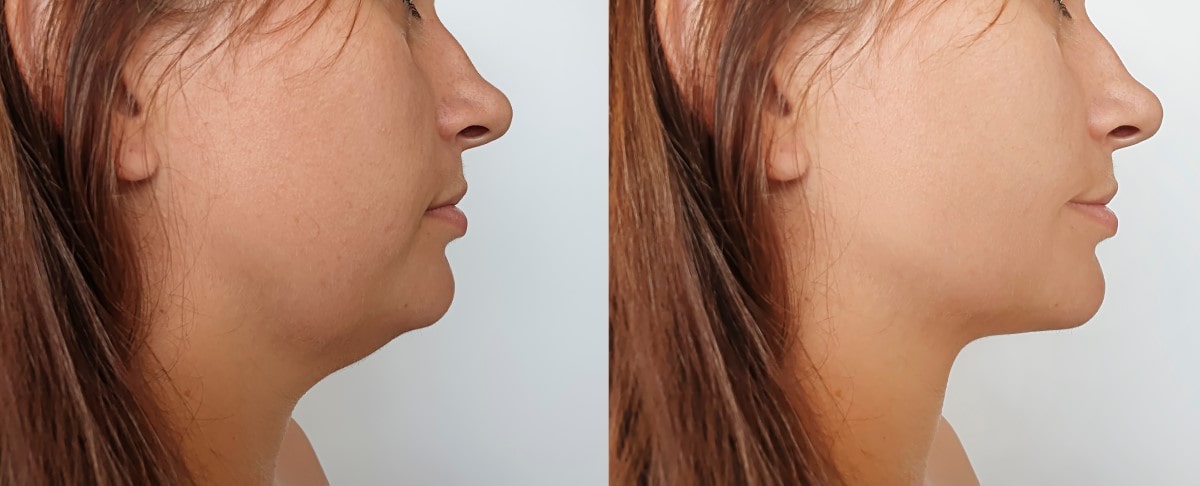 Kybella® has been specifically designed to target the neck and chin of every patient. It is composed of deoxycholic acid, a naturally occurring molecule that aids in the breakdown and absorption of dietary fat in the body.  When Kybella® is delivered into target locations, this main ingredient begins destroying excess fat. Over time, your body will naturally dispose of these damaged fat cells through waste, revealing a slimmer profile below the chin.
What to Expect from Your Kybella® Treatment
Dr. Lisa McCoy of Ageless Aesthetics is professionally certified to administer Kybella® treatments and has provided countless patients with this innovative solution to submental fullness. Starting with a consultation, Dr. McCoy will work with you to design a customized treatment plan that will help to improve the silhouette of your neck and chin. Depending on the skin laxity in the area and the submental condition, Dr. McCoy will determine how many treatments of Kybella® will be necessary over the course of a few months. These additional treatment sessions are typically set in one-month intervals.
During a Kybella® session, the injectable is delivered to the subcutaneous fat below the chin. Once placed, the deoxycholic acid will begin breaking down the stubborn fatty tissue. When the fat cells creating the double chin have been destroyed, they can no longer store additional fatty tissue. With nowhere to go, the dissolved fat is metabolized by immune cells and passes naturally as waste.
Kybella® treatments are relatively quick, lasting about 15 to 20 minutes. During the weeks that follow your double chin removal treatment, you'll soon notice an improvement in the appearance of the fatty tissue as well as skin laxity. In addition to eliminating submental fat, Kybella® can also have a subtle tightening effect on the neck tissue.
Kybella® is completely non-surgical, so there is no painful recovery from deep incisions or sutures. In fact, Kybella® is often referred to as a "lunchtime treatment" because patients can have their appointments and return to work or their other daily activities afterwards. Patients can return to their normal activities immediately after treatment, but it's highly advised that strenuous exercise be avoided for the first 24 hours after treatment. Patients will experience side effects, such as soreness and moderate swelling, at the injection sites for up to a week after their treatment, but once the side effects fade, patients should see a more defined, sleeker jaw and neckline.
Who Is a Good Candidate for Kybella®?
Patients who have submental fullness and want double chin removal without surgery are the perfect candidates for Kybella®. Kybella® is effective on all skin tones and skin types for patients over the age of 18. Patients who have any type of skin infection, bleeding disorder, or medical condition should not receive Kybella® without first consulting their primary physician.
Explore Double Chin Removal with Kybella in Snoqualmie, WA
If submental fullness has you feeling less than confident about your appearance, and you've tried other treatments without seeing improvement, it might be time to consider Kybella® double chin removal. At Ageless Aesthetics, Dr. McCoy works exclusively with cosmetic injections, making her a specialist in the treatment. Trained extensively in the art of cosmetic injections with over 7 years of training with Allergan (the creators of Botox®), Dr. McCoy prides herself on her exceptional artistry, innovative techniques, and masterful results. Dr. McCoy fills her practice with compassion, knowledge, and a friendly atmosphere so that you can not only look your best but feel your best after a visit. Your cosmetic goals are our cosmetic goals, and we're dedicated to finding the most efficient ways to achieve your desired results.
For additional information about Kybella®, please contact Ageless Aesthetic at (425) 409-2288 or contact us to schedule your personalized consultation today!