Anti-Aging Treatments For Men | Snoqualmie, WA
Everyone wants to look and feel their best. Men and women alike seek out ways to look younger, healthier, and attractive. So, there's no surprise in learning that cosmetic procedures are growing increasingly more popular for men. 
In fact, the American Board Society of Plastic Surgery has reported that since 2016, men opted for more than 1.3 million cosmetic procedures in that year alone. In the past five years, that number has only grown. 
These statistics prove that countless men are actively pursuing cosmetic procedures. That's because many are learning just how easy and convenient it can be to look younger, more vital, and all-around attractive. Furthermore, injectable cosmetic products can help treat various issues, including tension between the eye area, migraines or the painful effects of TMJ.
At Ageless Aesthetics, expert injector Dr. Lisa McCoy offers two popular treatments at her office in Snoqualmie: Botox® ("Brotox") and jawline and chin fillers. Botox helps to smooth and relax facial muscles, and dermal fillers can help chisel the jawline or add definition to a weak chin.
To learn more about Snoqualmie Botox Treatments for Men with Dr. McCoy, please continue reading by filling out our online form or calling us at (425) 409-2288. You can also access our online scheduler if you are ready to book an appointment!
Brotox is a fun play on words that refers to the use of Botox when used on men. Botox has been used for years and is only growing in popularity for its ability to smooth out dynamic wrinkles and fine lines on the forehead, around the eyes, and around the mouth. Instead of injecting Botox into the wrinkles and folds, like with a dermal filler, Botox is injected into muscles to relax them and reduce the tension that causes lines and wrinkles. The result is a youthful rejuvenation to the skin and overall appearance.
Why is Botox Becoming Popular Amongst Men?
Dr. McCoy offers Botox, Dysport®, and Xeomin® to help reduce the appearance of fine lines and wrinkles in her male client. These injectable solutions have been refined and modified to be highly effective in not only treating aesthetic concerns but also treating many medical issues that are notorious amongst men, including: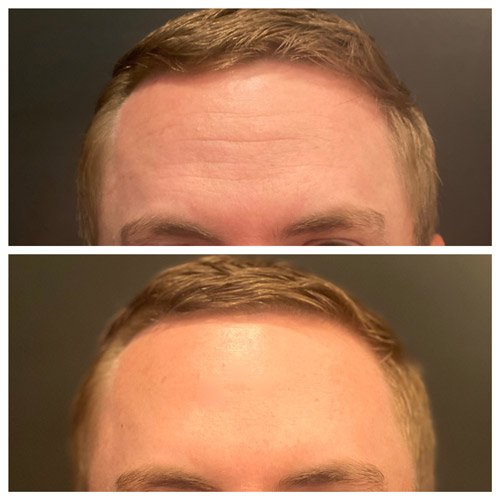 Botox has recently become increasingly more popular because of its ability to relax wrinkle-causing muscles beneath the skin on multiple areas of the face, including the following:
Forehead

Crow's Feet

Around the Mouth

Area Between the Eyes

Masseters (Jaw muscles)

Pebbled, dimpled chin

Jawline

Neck bands

Gummy smile
What to Expect From A Brotox Treatment With Dr. McCoy
Dr. McCoy administers Botox injections at her boutique in Snoqualmie, WA. To begin, you and Dr. McCoy will first sit down and engage in a one-on-one conversation about your primary concerns and what areas you would like to focus on the most. Dr. McCoy will do a thorough facial assessment on you and take plenty of pre-treatment photographs. Then, you will finish by discussing your treatment and agree on a plan.
Dr. McCoy's priority is always the comfort and satisfaction of her patients, which is why she focuses on your concerns and provides exceptional quality care.
Every treatment with Dr. McCoy is customized to the patient. However, a typical Brotox treatment with Dr. McCoy will go as such: